Part Time Job Opening – Office Manager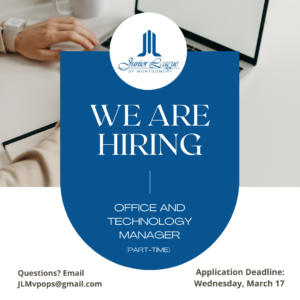 Want to work for the Junior League of Montgomery? We have an immediate opening for a part-time Office and Technology Manager. You can find all the details below. Please #SHARE this with your friends, and help us spread the word! This vital position serves as the first point of contact for our members and public and is the building manager during operating hours.
Job Functions:
Tasks include, but are not limited to, front desk management, answering phones, maintaining office supplies, scheduling meetings and appointments.
Coordinate office support to ensure league operations are always able to support ongoing volunteer tasks.
Depositing funds and reconciling amounts in the financial management system.
Analyze and improve office processes and policies.
Update information in the volunteer website/web platform.
General upkeep of the building during operating hours.
Additional duties may be assigned by the League President based on current League needs.
Operating/Work hours:
August through May: Monday – Thursday from 9:00 a.m. – 2:00 p.m.  Friday 9:00 a.m. – noon
June through July: Tuesday – Thursday from 9:00 a.m. – 2:00 p.m.
Work Hours are seasonally timed due to the nature of our volunteer organization.  Hours may vary slightly based on the current needs of the League.
Experience/Education:
High school diploma or equivalent required. Bachelor's degree preferred. No less than three years of experience working in an administrative support role required. Other combinations of work experience and education will be considered.
Previous experience as an administrative assistant or volunteer coordinator preferred. Previous experience with Digital Cheetah or other volunteer platform software desired.
Compensation is commensurate with experience.
To apply, please submit a resume and cover letter – that includes hourly compensation requirements – to:
Junior League of Montgomery
3570 Carter Hill Road
Montgomery, Alabama 36111
ATTN: Operations Council VP
Or submit information electronically to JLMvpops@gmail.com
An Equal Opportunity Employer
The Junior League Headquarters is a smoke-free environment