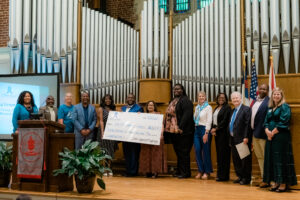 The Junior League of Montgomery believes that strong and healthy communities are built by the people who serve! Since 1926, the Junior League of Montgomery has served as a pillar organization in the city of Montgomery, dedicating millions of dollars and deploying thousands of highly trained volunteers. Each year, our members donate over 10,000 volunteer hours supporting Montgomery's most pressing issues by granting funding and WOman power to community organizations that are equally dedicated to supporting strong and healthy communities. All of our grantees fall within four focus areas:
Strengthening economic security and financial wealth
Strengthening education and culture
Strengthening health and wellness
Strengthening safety and negating crisis
In addition to yearly community grants, we also provide community assistance funds to organizations that are in need of emergency repairs to help support their mission.