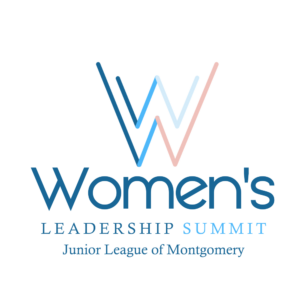 Below are the guidelines for our 2023 EmpowHERment Scholarship. Please click here to apply for the scholarship.
 2023 Junior League of Montgomery Women's Leadership Summit
Scholarship Application Guidelines
The Junior League of Montgomery, Inc. (JLM) is an organization of women committed to promoting voluntarism, developing the potential of women, and improving the community through the effective action and leadership of trained volunteers.
Its purpose is exclusively educational and charitable. To motivate and empower women to be catalysts of progress in their professional and personal lives and within their community, the JLM hosts an annual Women's Leadership Summit (WLS).
For the last five years, the WLS has brought together nearly 1,000 women to celebrate International Women's Day and to encourage and enrich one another. Funds raised through the WLS enable the JLM to award the EmpowHERment Scholarship to women pursuing their passion, purpose, and power by developing or advancing a business, organization, professional development, or a measurable personal goal or ambition. The recipient(s) of the 2023 EmpowHERment Scholarship will be announced at the 2023 WLS on March 10th, 2023.
Scholarship  Overview
The scholarship request must serve as an enrichment opportunity to enhance, educate, empower, or equip the recipient with continued growth and development in her career, business, or personal brand. We are committed to this focus by identifying and participating in efforts to promote the full potential of women in their chosen areas of expertise and influence.
All scholarship applications must be received by February 17th, 2023. You may be contacted by the Women's Leadership Summit Committee members to discuss your application.
The Committee members will thoroughly review each submitted application and make a recommendation to the Junior League Board of Directors.
Awards will be announced and presented to the selected applicant(s) during the Women's Leadership Summit on March 10, 2023.  All applicants not selected for funding will be notified in writing by March 3rd. 
2023 Junior League of Montgomery Women's Leadership Summit
Scholarship Application Guidelines
SCHOLARSHIP AWARD:
Scholarships may be requested for $250 and up to $2,500.
Requests may be fully or partially funded.
Payment will be made directly to the scholarship recipient.
A follow-up report should be submitted to the Junior League of Montgomery by December 1, 2023.
This is a one-time award and will not be eligible for renewal.
TYPES OF SCHOLARSHIPS:
General Operating Support for a business or non-profit organization.
Seed/Start-up Grant for a business or non-profit organization.
Crisis Grant to cover unexpected expenses hindering the progress of a woman's business plan or professional development.