There are so many reasons to join the Junior League of Montgomery!
Training for effective community leadership.
Insight into community needs and opportunities to contribute to solutions.
Interaction and partnerships with community leaders.
Exposure to creative problem-solving techniques.
Make new friends and have opportunities for continued growth and fulfillment.
Meet incredible women who are interested in serving their neighbors and community.
Are you interested in becoming a member of The Junior League of Montgomery?  If so, please join us at our open house on April 4th, 2022.  We have two opportunities to visit our headquarters and learn more, 11:00 am to Noon and 05:30 pm to 06:30 pm.
JLM's current and incoming President will brief you on the organization, and you will have a chance to ask questions and speak to other members.
Check out our Facebook page – https://www.facebook.com/juniorleaguemontgomery for what we have been doing, and we hope to see you at the open house.  Click below for our membership application.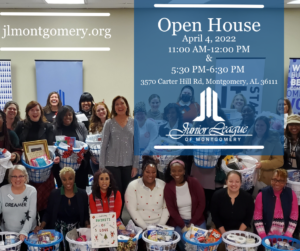 Click Here for More Info!