Part Time Job Opening – Director of Donor Relations and Advancement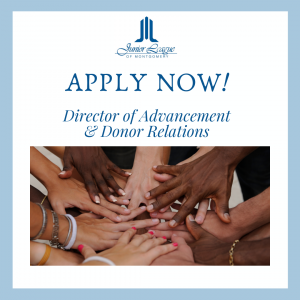 Job Description 
Job Title: Director of Donor Relations and Advancement 
Status: Part-Time, Salaried 
Direct Supervisors: President and Operations VP | Reports to Board of Directors 
Qualifications 
A Bachelor's degree is preferred, preferably in communication, education, marketing, business administration, or similar. Recommend having experience working with a proactive Board of Directors, fundraising, and nonprofit organizations.
Job Summary 
The Director of Development and Administration (Director) must be a mission-focused,  strategic, analytical, and process-minded individual with experience supporting a volunteer leadership team. In addition to providing annual league-wide fundraisers with continuity and administrative help, a large part of the role will be to establish and cultivate donor relationships, secure sponsors and raise funds for the Junior League of Montgomery (JLM). 
The Director reports to the President and Operations VP and is accountable to the JLM Board of  Directors. The Director is responsible for ensuring the day-to-day operations of the JLM  align with the organization's and its volunteer leaders' and provide appropriate support to members of the JLM. The Director is a critical partner, advisor, coordinator, and resource to JLM leadership and membership. 
Primary Responsibilities 
Builds and manages relationships with important stakeholders, including but not limited to the JLM sponsors, Holiday Market Merchants, peers of other Junior Leagues, peers of

other River Region nonprofits, and JLM community partners.  

Develop a League-wide sponsorship program that benefits the League and its corporate partners. 

Work with League leaders to develop annual sponsorship opportunities for corporate partners. 

Develop and oversee the production and distribution of the annual sponsorship brochure. 

Solicit and secure sponsors for the Junior League of Montgomery. 

Develop and maintain relationships with local and regional businesses and foundations. 

Set up and attend meetings with JLM board members and businesses to secure sponsors. 

Manage and fulfill the delivery of all benefits of sponsorships including, but not limited to, complimentary tickets, listings, ads, social media recognition, feature articles, and thank you letters. 

Encourage sponsors to purchase additional ads in League Logs magazine. 

Manage the annual Donor Appreciation Luncheon. 

Assist with JLM's membership and project management platform, Digital Cheetah,  including Donor Management modules, problem-solving and engaging technical support when necessary. 

Manage vendor relationships, budgets, and services.  

Work with Holiday Market Chair and Merchant Relations Chair to be a liaison to merchants each year to provide continuity and maintain relationships from year to year for booth sales, contracts, questions, and concerns. Collaborate with Holiday Market  Publicity Chair to brainstorm ways to promote merchants. 

Work with the Women's Leadership Summit Chair to meet appropriate annual deadlines when securing main speakers, venues, etc. 

Work with the Office Manager to maintain accurate records in the League's web-based database. 

Assist with fundraiser development and recognition on the website. 

Assist with maintaining records in the fundraiser, including retrieving accounting, ticket, and mailing lists. 

Assist with donor recognition and recordkeeping in a web-based database.

Create a yearly Development Plan.

Develop new sources of revenue.

Create a Donor Communications Plan.

Ensure annual filing requirements maintain compliance and nonprofit status.

 

As needed, attend Fund Development and Fundraising Committee meetings.

Provide extra help with committees within fundraisers as needed. 

Proof brochures, programs, tickets, ads, and articles.

Provide institutional history and consistency for fundraising committees. 

Sell ads for College & Career Night (fall event). 

Solicit food donations for Holiday Market and College & Career Night (fall events). 

 Attend fundraisers. 

 Ensure sponsors are recognized, and benefits met. 

Invite potential sponsors to show the benefits of sponsoring. 

Work with the Assistant Treasurer and Finance Council VP to ensure the donations and sponsor's dollars are recorded correctly and provide information to Finance Council VP during the yearly audit. 

Research and write grant applications for funding of League programs Bancorp.

Serve as a critical partner to the JLM leadership, acting as a vital resource for them and the membership. 

Serve as an energetic and articulate ambassador for the JLM in communicating its message to internal and external constituents, particularly with sponsors and community partners. 

Execute and deliver on behalf of the League, as authorized by the President and  Operations VP, any contracts for budgeted amounts that are necessary or desirable for the routine operation and administration of the League. 

Sign contracts for unbudgeted amounts less than $500 that are necessary or desirable for the routine operation and administration of the League.

When purchasing goods or services over $500, the Director will consult the President and,  if applicable, the Board to determine if quotes or bids are needed. 

At the discretion of the President, President-Elect, or Operations VP, the Director may be asked to perform other duties and tasks or fulfill other responsibilities for which they are qualified.  
Necessary Skills
Ability to communicate effectively both written and orally. 

A self-starter who can work independently as well as with groups.

Proficient in current technology and computer applications and willing to learn new software.

Comfortable initiating contact with donors and community stakeholders. 

Respectful of both cultural and social differences. 

Implements ideas that are cost-effective. 
Working Conditions and Environment 
The working conditions and environment characteristics described below represent those an employee encounter while performing this job's essential functions. Reasonable accommodations may enable individuals with disabilities to perform essential functions.
Work is primarily in internal offices. This position requires sitting at a desk and computer for extended periods. 
This position:  
Visits local agencies to observe community projects in action and meets with Project/Agency Directors, daytime or evening as appropriate. 

Attends local meetings/training as appropriate, daytime and evening. 

Must be able to speak and hear well enough to communicate effectively and must be able to see short distances clearly, such as a computer screen. 

Must be able to lift up to 10 lbs.
Requires the capability of handling periods of high stress and multitasking with a pleasant demeanor. 
To apply, e-mail a copy of your resume, list of references, and a letter of interest to: 
Elizabeth Lawlor
Operations VP 
Junior League of Montgomery 
information@jlmontgomery.org